As MYETV we have several external social pages to take care of; the one on Facebook at https://www.facebook.com/myetv and the one on Twitter at https://twitter.com/myetvtv in both external social pages of the brand it is possible to add and/or remove new creators of contentsContents every content intended as text, images, audio or video: with Facebook through the controls of the new pages (switch accountAccount an Account contains the personal information that is assigned to those who register and access with email and password) and with Twitter through the famous Twitter-Deck (at https://tweetdeck.twitter.com/). Currently there is no pay for that work but it is possible to advertise products or external pages as long as they follow the behavioral requirements described below; it is possible that in the future MYETV MYCOINS may be used as revenue, if you are already subscribed on MYETV, as an incentive for those who do a good job. Below I report the behavioral and/or account requirements to be able to be with us:
There are no technical requirements related to the account; it is sufficient to have been registered on the social network

Network of Contents

is the channel in which owners can post their content and the audience can see the contents posted by the owners

for more than 3 months, with an active account and which has not received a suspension for at least 5 months.
You cannot post sensitive content

Contents

every content intended as text, images, audio or video

and/or bad words/images/videos
The contents and personal facts of people external to the social network are not allowed
Before you tag people or pages, make sure they are aware of the tag
Minimum 1 post per week in total, there is no limit on how many posts can be published
You must be at least 16 years of age, in some countries a minimum of 18 years of age is required
You can post any type of content, even external, and you can link to your existing pages as you like
It is preferable to avoid publicly posting photos and/or videos for which you do not own the rights and/or the source is not specified
It is preferable to stay updated on MYETV features and post, from time to time, also the documents and contents deriving from this blog
Your account is solely responsible for the content you post under the MYETV brand
You will not be judged by what you post on your personal account, different from the brand account
The work is completely free and voluntary; in the future we could reward contents creators with MYCOINS if this is possible.
Primary language spoken: English. Secondary available languages: italian, spanish, french, german.
HOW TO APPLY
Send us a private message (PM or DM) on the platforms of your choice, specifying that you want to apply for this role. An admin will check your request and respond to you with the information on how to use the socail platformPlatform the the set of the main domain and all the subdomain of a particular website; also the computer architecture and equipment using a particular operating system, to be placed as a brand content creator; acceptance is instant and will require an approval from the applicant. You can also send us an email to: admin@myetv.tv with your username and/or url used on social networks; one of our admin will contact you on that social network to make sure you have an active account.
---
We are a big family all over the world; we like to stay happy and celebrate as much as possible also to reduce the stress of our work. Anyone who violates these recommendations may be subject to retaliation by the administrators of external social networks. Being a Social Media Manager of the MYETV brand on external social pages can be of great help and is a responsible job as, from time to time, advertisements are published that give greater visibility to the contents. For this reason it is important to have the patience and cordiality to respond to messages from different people and to give more visibility to the brand also with the help of interactive posts; it is possible, in fact, to involve followers in various activities and if you have problems with someone, an admin of the page will always be ready to help you.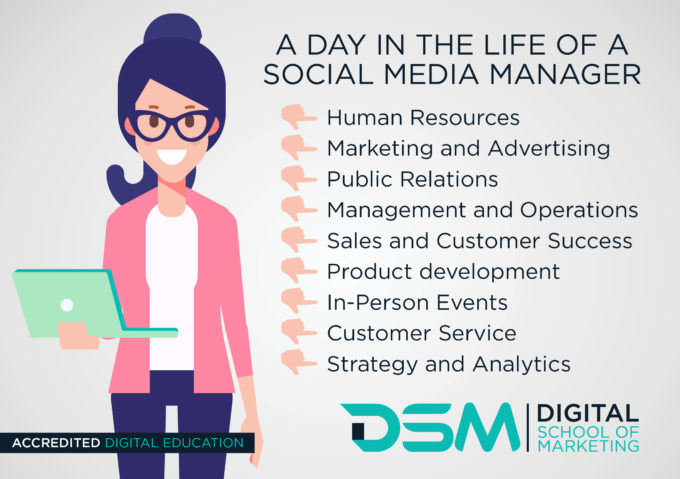 Image from: https://digitalschoolofmarketing.co.za/blog/is-a-social-media-manager-a-good-career-choice/
You can start from scratch or even be already an expert and / or with many other brand pages. Our pages and our team will be happy to welcome you and / or teach you and / or give you help to understand how to act in certain situations.
Give us a hand to take the MYETV brand higher and higher; together we can only grow!
Please note: this document and the relative content may be subjected to changes in future. Thank you for reading.