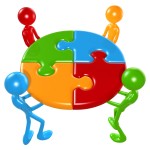 The mega-pack v3 is still in development and test and we have some good news today. We focused this new update on the v3 update of the search engine-[Search Engine]: [is the application that deals with the search for content, networks or anything else on the platform] of MyeTV; is a step ahead and it is an important update that will revolution the way of the sharing in all the website. The search engine feed now can search for users and pages in seconds and you can add them in your friendlist in a few clicks or you can go to the profile page (or MyWall).
You can accessAccess [the simple access to a website as a visitor] at the search engine from the homepage, from the playpage, from any video with the embed code or directly from the browser, here: http://www.myetv.tv/search/ and you can start search and find something.
The search engine will look like this (i searched for "test" as example):
with the "V" button you can open the menu and with the "+" button you can add the user to your friend; users and pages (or mywall) are different things so you will show them in a separate tab; and you can see the result of videos, images and text shared from the users (in your friendlist or public) for your searched words.
As we said in this past post, we change the way to search a word when you type and the privacy options to have all the control of your privacy (you can chose to hide or show your informations to the public).
Please note: with this update we fix some little bugs and we will add some new features in the fast search and in all the feed related to the search engine.
The next step will be an update on the users informations… Stay Tuned, folks!!!