This is a new feature only for registered users on MyeTV; if you follow someone's MyWall we will notify you, in real time, when your friend add something new. Trough the "Task and Notice" icons menu at the top of the screen:

The number of the icon will increase according to the latest content-[Contents]: [every content intended as text, images, audio or video] updates from your friends; this is an example of the look&feel when you click on the "Task and Notice" icon, and "See All Tasks" menu: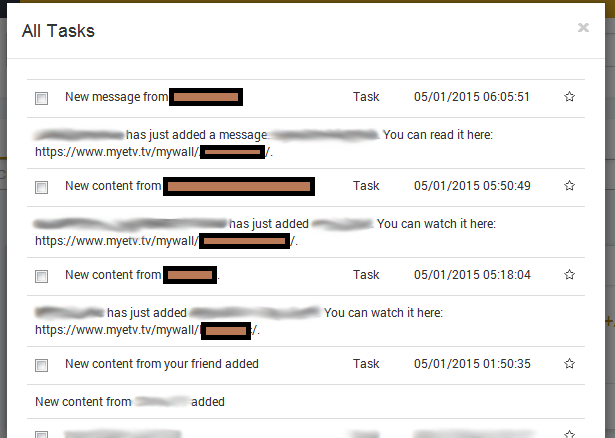 You can find there all the updates from your friends and following MyWalls; in this section will be logged all the public updates of your friends. The privacy (visibility) settings of the content must be "public" or "only logged users" or the update will never be logged to the friends and followers-[Follower]: [a follower refers to a person who subscribes to your account or network in order to receive your updates]; if the content is only for some of your friends, only to that friends will be pushed the updates.
This feature can log everything: text, images, videos or any new content added from followed MyWalls. This feature is currently under testing and online from now. We will make it better and better, soon.
Have a nice day and stay tuned!!!