From today you can loop any videos everywhere in MyeTV; you can loop videos in the timeline or in the play page, the settings will be saved in a little cookie to remember your choice. When you change this settings will be changed in all the website for all the videos. This is an example button in the feature "watch now" in the timeline:
Repeat on: 
Repeat off: 

In the playpage we have added a new option panel to let the users choose their preferences: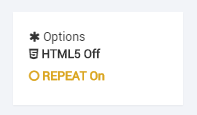 If options are set on "ON" they are highlighted in goldenrod. Owners of contents can choose if make this feature visible for all the audience or not (in their own contents). This feature will count also the looped visits but they are not unique view.